Pediatrician Kansas City, MO
Our friendly, knowledgeable staff works hard to make your visits to our office as smooth as possible. We've provided helpful information about our office on this page, including directions, hours, insurance and billing, payment options and financing.
Pediatric Care North
8781 N. Platte Purchase Drive
Kansas City, MO 64155
Tel: (816) 587-3200
Fax: (816) 587-7644
Click here for door to door driving directions
Office Hours

| | |
| --- | --- |
| Monday: | 08:00 AM - 08:00 PM |
| Tuesday: | 08:00 AM - 08:00 PM |
| Wednesday: | 08:00 AM - 08:00 PM |
| Thursday: | 08:00 AM - 08:00 PM |
| Friday: | 08:00 AM - 05:00 PM |
| Saturday: | 09:00 AM - 12:00 PM |
| Sunday: | Closed |

Appointments
Pediatric Care North takes pride in offering a range of providers and appointment times to accommodate your schedule. Please call our office to schedule any appointments and our front desk staff will accommodate your desired time to the best of their ability. If you are running late or need to reschedule, please contact our office as soon as possible.
Insurance and Billing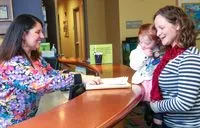 Pediatric Care North physicians participate in several insurance plans, and we file for patients who have those plans. For patients who have insurance plans that we do not participate in, we provide an itemized receipt at the time of service for filing with your insurance carrier.
Statements are mailed on a monthly basis to our patients. A family billing form is issued so that all charges are billed to the responsible family member. Unless arrangements have been made with our accounting office, all accounts are to be paid within 60 days. To prevent billing errors, it is very important that our office is notified of any changes in insurance coverage or changes in address, phone number or place of employment. We must have a current copy of your insurance card or enrollment form in order to submit to your insurance company. Please feel free to ask the accounting staff for assistance on any questions you may have regarding your account.
Our billing office hours are 8:00 am to 5:00 pm Monday through Friday. The direct phone number for our billing/ insurance office is 816-587-3341
Payment Options
We accept checks, cash or credit cards. We also offer a flexible payment plan. Please see our Financial Coordinator for details. We are happy to file insurance for your reimbursement as long as you are free to choose your own pediatrician.