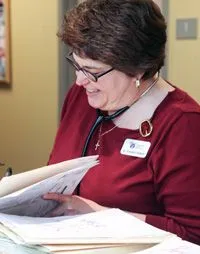 How soon can I get an appointment?
Pediatric Care North offers two types of appointment:
Future Appointments – these appointments are typically taken for well child exams, weight checks, follow up visits, medication checks, vaccinations, chronic health issues.
Same day Appointments – these appointments are scheduled for sick patients on the same day we receive your call. These appointments are filled on a first come - first served basis.
What if I need a form completed by a physician?
Depending on the type of form, we ask for a one week notice to have forms completed. This allows us time to review the chart and fill out the form completely with the most current health information. If you have a check-up scheduled within the time needed for the form, please bring the form to the appointment.
What do I do if my child has an emergency?
If your child is in a potential life threatening medical emergency, call 9-1-1. Our phone triage nurses are accessible from 8:00 to 4:45 Monday through Friday and 8:30 to 11:30 on Saturdays. Our nurses view every call as a teaching opportunity to advise about normal childhood development and common illnesses. We use protocols written from the Barton-Schmidt Pediatric Triage Protocols and from the professional judgment of our staff. If you have questions after hours, we have the Children's Mercy calling center that can reach a doctor 24 hours a day for any questions or concerns.
What is your "walk-in" policy?
We do not take "walk-in" patients. We have phone triage nurses readily available to answer questions regarding your child's health care or condition and set up appointments accordingly. Because our appointments are filled on a first come - first served basis, walk in patients may be triaged and not seen until later in the day, therefore, making a call to the office will potentially get you seen sooner.
What dose of medicine do I give my child?
We recommend Tylenol® for your child aged 6 weeks and older and Motrin® for your child 6 months and older, based on weight calculations. Click here for dosages.
The AAP does not recommend over-the-counter medications for children 6 years and under. The benefits of over-the-counter medications, such as cold and cough medications, do not outweigh the risks of giving these medicines. Please contact our office and speak to one of our triage nurses regarding the symptoms your child is experiencing and what our recommendations would be based on their symptoms.
Does my child need a check-up even if they are not due for immunizations?
Yes, all children birth to 18 years of age should be seen annually. Immunizations are a small part of an annual exam. Our providers check age-appropriate nutrition and diet, development and social skills, and safety and anticipatory guidance annually.
For more information about our pediatric services, call the pediatricians at Pediatric Care North in Kansas City, MO. Call our office at (816) 587-3200 today!